Best Cheap Modified eCommerce Shop Hosting | Are you a German e-commerce store provider? Already have a shop but still not satisfied with your recent e-commerce platform service? Thinking to change your your recent e-commerce store platform with the better platform? Modified eCommerce Shop looks suitable for you. The modified eCommerce Shopping cart software is a free published under the GPL open source shop system. Especially for German store provider, the system offers many advantages, which bring the shopowner legally on the safe side. Modified eCommerce Shop comes with  a new appealing template on CSS-based which can be freely edited and customized to your needs. But this e-commerce platform is classified as self-hosted open source shopping cart software. Modified eCommerce Shop basically standalone programs that require you to install them into your own host. We know that choosing self-hosted cart requires a lot more technical and confusing if you are not very computer and code savvy. This also implies that you should have self-hosted website build in order to setup the Modified eCommerce Shop software. So, if you are thinking which hosting provider can give you the best cheap Modified eCommerce Shop hosting, this article will hopefully shed some light on this subject for you.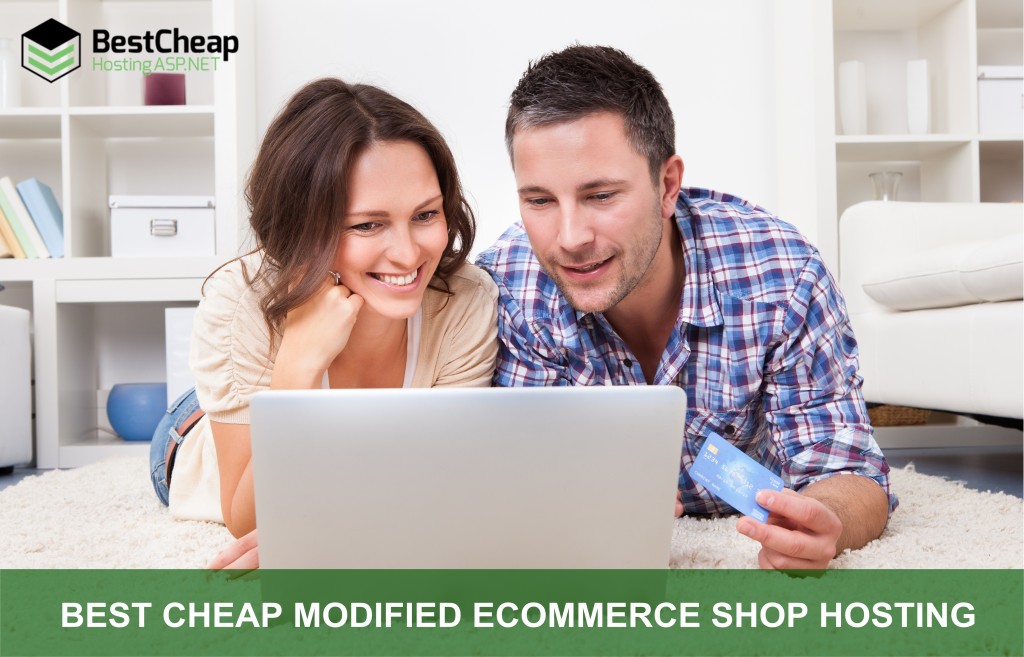 First Look at Modified eCommerce Shop
The modified eCommerce Shopsoftware combines open source solutions to provide a free and open development platform, which includes the powerful PHP web scripting language, the stable Apache or IIS web server, and the fast MySQL database server. The used standard template of Modified eCommerce Shop software meets the requirements of the W3C XHTML and is fully validated in this regard. In addition, supplies the large and lively community for continuous development and new features that allow in principle nothing to be desired. Both in the design and functions of the operator are no limits. Here are several powerful features which is served at Modified eCommerce Shop:
Search engine optimizations (SEO)
Installation of many useful functions for use and administration
Double opt in for e-mail
Current googlebase export module is adapted to legal requirements
The Thickbox offers a "state of the art presentation" of your product images.
Optimized database queries for shops with more than 100.000 products
Security updates fully integrated and developed further
Attachments in order mails to fit the legal requirements
For more info you can visit Modified eCommerce Shop software official sites.
Modified eCommerce Shop Hosting Requirements
Here are the minimum requirements to run Modified eCommerce Shop on a hosting server:
System Requirements
Server Uptime
Load Speed
Price
Server Location
Support
With no restrictions or special requirements, the Modified eCommerce Shop software can be installed on on any environment that supports PHP 5.0 and MySQL, which includes Linux, Solaris, BSD, and Microsoft Windows environments.
This is the most important key factor, Uptime is the amount of time that a server has stayed up and running online, sure you certainly want your Modified eCommerce Shop hosting to stay online 24/24 so that you will not miss any order.
With a fast load speed hosting, your customers will have better user-experience, they can check more products, read more pages on your sites and of course, they are likely to buy more products.
Price is always a big concern, assuming that you've just started your new Modified eCommerce store and you need money for many business activities such as: Marketing, advertising, hiring employee. So it's just really great if you can find a best cheap Modified eCommerce Shop hosting plan to start off (remember you also can upgrade hosting plan whenever you want when your business grows big enough)
This is mostly for SEO purpose, if you target customers in Germany for example, then go ahead with a Modified eCommerce Shop hosting provider in Europe. If you are targeting UK customers, then make sure that your Modified eCommerce Shop server is hosted in UK, this will benefit your site's ranking in Search engine as your site are running under an IP from targeted country.
It's also important that the hosting provider can provide reliable support for all web hosting related problems and for Modified eCommerce Shop issues as well. Make sure that they can deal with the simple hosting-related Modified eCommerce Shop issues first (not all complicated issues).
Who is The Best Cheap
Modified eCommerce Shop Hosting?
Based on our review from some crucial web hosting aspects including price, features, reliability, speed, tech support, HostForLIFE.eu meets the all of above requirements. They are highly recommended by our editors. HostForLIFE.eu has been providing its hosting plan to individuals and small businesses in multiple countries in Europe including UK, Germany, France and Netherlands since 2008. HostForLIFE.eu has set up headquarter offices in those countries to provide best cheap Modified eCommerce Shop hosting service and support to European customers all around the world. Over the past 5 years, HostForLIFE.eu has devoted itself to reliable and fast hosting services at an affordable price, and it is believed that HostForLIFE.eu will remain committed to high performance to gain better satisfaction from customers.
HostForLIFE.eu Pricing and Features
HostForLIFE.eu prices its best cheap Modified eCommerce Shop hosting service starting at €2.00/month, €3.50/month, €6.00/month and €11.00/month for 36/12/3 months subscription regularly. Also HostForLIFE.eu supports nearly all the latest cutting-edge PHP-based technologies.
Not only that, HostForLIFE.eu provides customers with a 30-day money back guarantee, which allows customers to get the most risk-free and worry-free purchase. After all, if they direct their cancellation requests within the initial 30 days, they can get all of their money back.
HostForLIFE.eu Performance and Reliability
HostForLIFE.eu offers one of the fastest hosting services. It invests hundreds of thousands euro in every year to keep their web hosting infrastructure up-to-date. Their colocated data centers from several countries in Europe utilize 4 separate fiber lines from 3 network providers with the direct access to the Internet and the on-demand network capacity exceeding 6,000 MBits.
By ultilizing the latest servers and network infrastructure, HostForLIFE.eu guarantees 99.9% uptime for their best cheap Modified eCommerce Shop hosting. They provide 24×7 server monitoring service from the centralized network operation center. All kinds of server and network break are alerted immediately and automatically, then will be taken with the proper actions to get them resolved as soon as possible.
HostForLIFE.eu Technical Support
HostForLIFE.eu offers responsive technical support which is available 24/7 via e-mail and live chat. All the support staffs are well-trained and experienced, being able to offer the best resolutions with the most professional manner. Besides, for customers who want to gain some knowledge of Modified eCommerce Shop hosting in advance, they can check the knowledge base on HostForLIFe.eu hosting article and tutorial blog.
HostForLIFE.eu Scripts Compatibility
This web host achieves a 100% compatibility for all the popular scripts including WordPress, Joomla and Drupal by offering the following features.
The latest and most secure version of Apache – the most commonly used web server
PHP 5.3.x and MySQL 5.0 to fully support different scripts
A common app installation requires 64 MB of PHP memory, but HostForLIFE.eu sets the PHP memory_limit at 256 MB by default
PHP runs as suPHP to ensure the most secure hosting environment
Moreover, HostForLIFE.eu offers 1-click script installer, with which even a newbie who only has the most basic computer knowledge can install and run the software without any hassle. Besides, the control panel included in HostForLIFE.eu Modified eCommerce Shop hosting package is cPanel, featuring an intuitive and graphical-based user interface to help customers manage their websites easily.