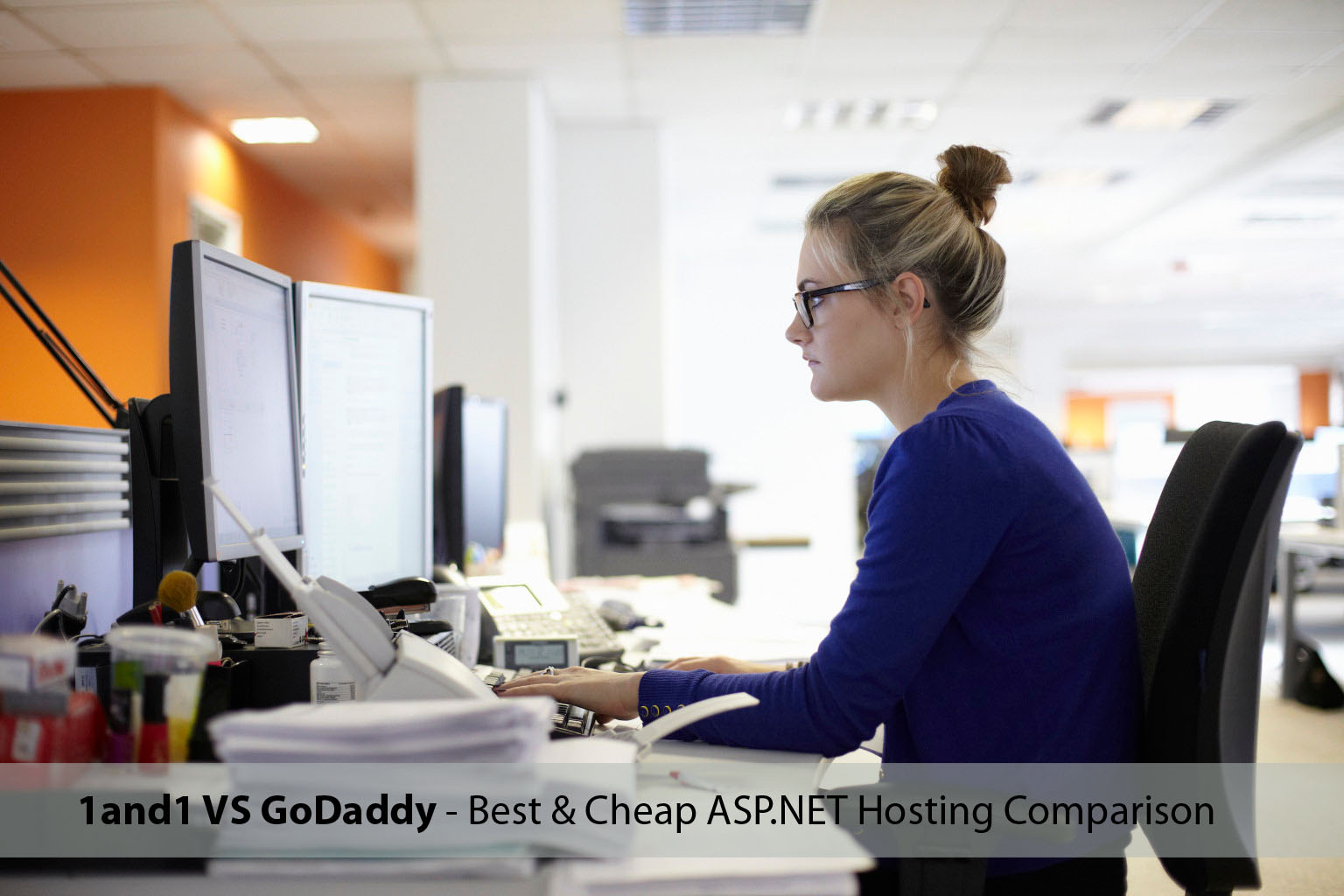 1and1 and GoDaddy are two of the leading companies in the hosting industry, both having been favored by millions of people in the world. They offer limitless possibilities for each hosting package and provide various options. In this article, we highlight their ASP.NET hosting services and make an in-depth comparison between those two excellent web hosts.
This comparison focuses on the price, performance, ASP.NET related features and the most important technical support, which provides readers with a new angle on 1and1 and GoDaddy and helps them charge which one is the better choice. Before making the next move, let's have an overview on those two companies.
| Ratings | 1and1 | GoDaddy |
| --- | --- | --- |
| Reputation | | |
| Price | | |
| Features | | |
| Speed | | |
| Reliability | | |
| Technical Support | | |
| Price | $0.99/mo | $3.49/mo |
About 1and1 vs GoDaddy
In June 2000, 1&1 began the international expansion of its thriving web hosting business. The UK office was opened in Slough, near London, with a fully localised operation including sales, service and support. Soon after, 1&1 acquired shares in the global domain name registrar, Afilias. Strong security tools and lots of business-oriented resources are only part of what makes 1&1 so appealing. The company also offers several flexible web hosting plans to choose from, though their support options could use some improvement.
GoDaddy is a publicly traded Internet domain registrar and web hosting company. As of January 2016, GoDaddy was said to have had more than 61 million domain names under management, making it the world's largest ICANN-accredited registrar. It serves more than 13 million customers and employs more than 4,000 people.
1and1 VS GoDaddy – Pricing
1and1 is famous for its extremely cheap hosting packages, among which the most affordable one is lower than $1/mo. The 3 ASP.NET hosting packages of 1and1 are Basic Windows, Unlimited Windows and Performance Windows, regularly pricing at $5.99/mo, $8.99/mo and $14.99/mo. And now, with around 84% off of each plan, the price is starting at $0.99/mo. Although it is cheaper than almost all competitors in the market, it is not necessarily what you want.
GoDaddy has 3 ASP.NET hosting solutions called Economy, Deluxe and Ultimate. The original price of each plan is $6.99/mo, $8.99/mo and 14.99/mo. Unlike 1and1 coming with such tempting discount, GoDaddy enables customers to save 50% and reduces up to $7.5/mo for its ASP.NET hosting service. Today, the price is down to $3.49/mo, $4.49/mo and $7.49/mo. To make it more clearly, we list the price of 1and1 Basic Windows and GoDaddy Economy in the following table.
| Company | 1and1 | GoDaddy |
| --- | --- | --- |
| Plan in Comparison | Basic Windows | Economy |
| Regular Price | $5.99/mo | $6.99/mo |
| Discount | 84% off | 50% off |
| Discounted Price | $0.99/mo | $3.49/mo |
| Money Back Guarantee | 30 Days | 30 Days |
From this table we can see that both companies guarantee to permit the money back within the first 30 days. To be honest, it is not long enough to test whether the ASP.NET hosting service is quality.
1and1 VS GoDaddy – Features
As we all know, the more you want to get, the more you have to pay. 1and1 prices its service starting at $0.99/mo but offers limited features. For instance, the Basic Windows includes 100GB disk space, unlimited data transfer, 5 MSSQL2012 databases and the basic programming languages, which is an ideal option for some individual or small websites. And also, it utilizes custom control panel, which may not be a good choice for some newbies because this type of control panel is not easy to handle.
Each ASP.NET solution of GoDaddy has one free domain, at least 100GB disk space, unlimited bandwidth, etc. This company integrates with SQL Server 2012, Access 2007/2010 and at least one MSSQL databases. To help customers manage their sites effortlessly, GoDaddy offers user-friendly Plesk control panel coming with multiple advanced features.
1and1 VS GoDaddy – Performance
When it comes to hosting performance, both companies attach great importance to the infrastructures and invest a sum of money on data centers. 1and1 utilizes U.S based data centers in Lenexa, KS, equipped with sufficient power supply, firewall protection system, advanced cooling system, 24/7 monitoring, and so on. Under this condition, each hosted site is able to enjoy 99.9% uptime. As for GoDaddy, it also locates the data center in the U.S, which covers an area of 65,000 square feet powered by cutting-edge technologies, delivering at least 99.95% uptime. However, some other hosting providers can achieve over 99.95% uptime, like ASPHostPortal.com.

1and1 VS GoDaddy – Technical Support
1and1 supports the communication channels of phone and email, available in 24 hour a day, 7 days a week, and promises to answer all requests at the first time. The same as 1and1, GoDaddy customers can access the support team via the 24/7 phone and email. Besides, both of them offer a large amount of hosting guides.
Summary – Not Recommended
1and1 and GoDaddy both provide cheap ASP.NET hosting services, which are suitable for people who have a serious limitation on budget. However, they cannot achieve an ideal hosting speed as outstanding as some reputable ASP.NET hosting companies, like ASPHostPortal.com,HostForLIFE.eu,& DiscountService.biz.
TOP Windows ASP.NET Hosting 2016
Rank

Company

Features

Price

1

Windows 2012 R2

Easy Plesk Control Panel

MSSQL 2012/2014


30 day money back

FULL Trusted hosting

Dedicated application pool

ASP.NET 2.0/3.5/4.5/5, MVC 2/3/4/5/6, Silverlight 4/5

Word class data center

$5.00/mo

2

Windows 2012R2

Unlimited Site

Unlimited Bandwidth

Unlimited Disk Space

MSSQL 2012/2014

ASP.NET, MVC, Silverlight, URLRewrite2, WebMatrix

Excellent costumer support

€3.00/mo

3

Windows 2012 R2

MSSQL 2012/2014

Unlimited Site

30 day money back

FULL trusted hosting

Dedicated application pool

ASP.NET 1.1/2/3.5SP1/4.5, MVC 4/5, Silverlight 4/5

Australian Server

$7.00/m
ASPHostPortal.com
HostForLIFE.eu
DiscountService.biz
ASPHostPortal.com  is Microsoft No #1 Recommended Windows and ASP.NET Spotlight Hosting Partner in United States. They provide a lot of kind web hosting types such as: Windows hosting, Linux hosting, reseller hosting and many more. As a technology focused web host, their web hosting packages are designed to support popular web development technologies. Windows and ASP.NET hosting are at the core of business practice. Also, they have over 10 years combined experience in .NET, PHP, Network Administration, System Integration and related technologies to support mission critical hosting for applications built on these platforms. Their service is trusted worldwide and they have served more than 10,000 customers in 5 different continents.
HostForLIFE.eu is Microsoft No #1 Recommended Windows and ASP.NET Hosting in European Continent. HostForLIFE.eu offers a highly redundant, carrier-class architecture, designed around the needs of shared hosting customers. The company's prices for shared and dedicated hosting are competitive, also its features and perks are robust. They proudly announce that they are the leader in ASP.NET Hosting Technology. They have provided a wide-range of ASP.NET service, starting from the Classic ASP until the latest ASP.NET Hosting.
DiscountService.biz is the best cheap ASP.NET hosting company in Australia. DiscountService.biz was established to cater to an under served market in the hosting industry web hosting for customers who want excellent service. DiscountService.biz guarantees the highest quality product, top security, and unshakeable reliability, carefully chose high-quality servers, networking, and infrastructure equipment to ensure the utmost reliability. DiscountService.biz has ability to support the latest Microsoft and ASP.NET technology, such as: WebMatrix, WebDeploy, Visual Studio 2015, .NET 4.6 & .NET Core , ASP.NET MVC 6.0/5.2, Silverlight 6 and Visual Studio Lightswitch.