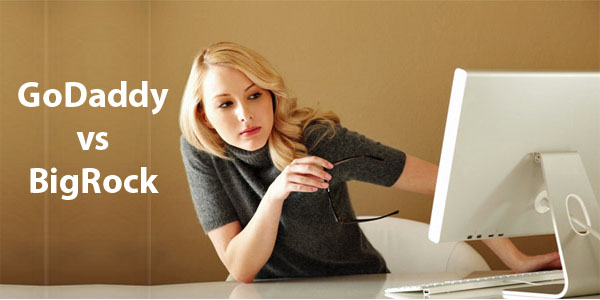 GoDaddy and BigRock are among the hosting providers that offer affordable Windows hosting solutions. Both of them have packages that cost less than $5/mo with which you can start a website within minutes. However, does this mean they are the right choices for you? Besides, which one of them is better?
To find the answers to these questions, we have reviewed and compared the two web hosts from multiple aspects, including the Windows hosting prices, refund guarantee, Windows technologies, technical support, and performance. As a result, we find that neither of them is a perfect choice no matter what you want to host is a personal blog, a business site, an eCommerce store or a development site.
In the details below, you will discover the two companies' advantages and disadvantages compared with each other, and why they are not recommended by us for Windows hosting. But first of all, be sure to read some easy-to-understand ratings.
| Rating | | |
| --- | --- | --- |
| Prices | | |
| Reliability | | |
| Technical Support | | |
| Speed | | |
| Features | | |
GoDaddy vs BigRock – Featured & Price
The latest Windows technologies
After reading the features offered by the two web hosts, we find that GoDaddy is able to keep their Windows server, SQL Server and many other technologies to the latest, while BigRock isn't. Below is the detailed information about this.
GoDaddy: Windows Server 2012 R2 with IIS 8.5, SQL Server 2012/2014, and Silverlight 5.
BigRock: Windows Server 2008 with IIS 7, SQL Server 2008, ASP, and ASP.NET.
In fact, GoDaddy and BigRock don't officially mention the available versions of some features, such as ASP.NET and ASP.NET MVC, so if you have specific requirements, you have to contact the sales team to know whether they provide the right version you need.
BigRock Advantage – Cheap Windows Hosting Plans
The most attractive part of the Windows hosting services offered by BigRock is the cheap price. The company provides four plans all of which come with affordable prices even if no discount is applied. You can get some price information in the list below.
Essential: $2.89/mo, $2.69/mo and $2.59/mo for 1/2/3-year terms.
Premium: $6.09/mo, $5.99/mo and $5.09/mo for 1/2/3-year terms.
Business: $12.19/mo, $9.89/mo and 9.69/mo for 1/2/3-year terms.
Pro: $12.49/mo, $12.19//mo and $10.49/mo for 1/2/3-year terms.
As a 50%-discount promotion is going on, GoDaddy plans are not expensive, either. However, when you renew, you have to pay much more. Besides, the 50% discount is exclusive to 3-year terms. Shorter terms come with higher prices. The monthly terms shorter than 1 year are not discounted.
Now see GoDaddy discounted prices and renewal costs in below.
Economy: $5.49/mo, $4.99/mo and $3.99/mo for 1/2/3-year terms, $7.99/mo for renewals.
Deluxe: $6.99/mo, $4.99/mo and $4.99/mo for 1/2/3-year terms, $9.99/mo for renewals.
Ultimate: $9.99/mo, $8.99/mo and $7.99/mo for 1/2/3-year terms, $14.99/mo for renewals.
Generally speaking, BigRock plans, especially the primary plans, are much cheaper than those of GoDaddy.
The primary Windows hosting plans offered by GoDaddy and BigRock are affordable, but when the features included in them are considered, the plans are not among the most cost-effective choices in the industry. For example, both of GoDaddy Economy plan and BigRock Essential plan support one domain only, and they include limited disk storage.
To make it easier to understand, we have compared the two plans with an affordable yet rich-featured plan from HostForLIFE.eu, a web host known for affordable Windows hosting services.
| Feature | | | |
| --- | --- | --- | --- |
| Plan | Economy | Essential | Classic |
| Disk Space | 100 GB | 10 GB | Unlimited |
| Bandwidth | Unlimited | Unlimited | Unlimited |
| Website(s) | 1 | 1 | Unlimited |
| MySQL DBs | Yes | Yes | Yes |
| MSSQL DBs | 1 | Unlimited | 1 |
| Email Accounts | 100 | 200 | Unlimited |
| Control Panel | Plesk | Plesk | Plesk |
| 1-Click Installer | Yes | Yes | Yes |
| Backups | No | No | Daily |
| Refund | 30 Days | 30 Days | 30 Days |
| Regular Price | $7.99/mo | $2.59/mo | €3.00/mo |
| | | | |
GoDaddy vs BigRock – Uptime & Speed
It is widely known that GoDaddy doesn't offer fast hosting services. The slow server responses and network connections have already been the largest concerns when choosing this web host.
According to real-time monitoring and user reviews, BigRock is a bit faster than GoDaddy, but it hasn't reached the average level in terms of speed, either.
Our monitoring points out that BigRock requires over 700ms for server responses, and the time is even longer for GoDaddy. Below are the recent 30 days' records of GoDaddy.


If you want your visitors to have a smooth browsing experience on your website, neither of the two companies should be your hosting solution.
GoDaddy vs BigRock – Technical Support
Both GoDaddy and BigRock provide a knowledgebase in which you can search for the solutions to a lot of commonly seen hosting issues, such as the account setup, DNS, domain transfer, and the use of the control panel.
In terms of the technical support backed by real staff, the two companies also offer multiple contact methods, including phone, tickets, and live chat. All these contact methods are accessible 24×7 except for the live chat provided by GoDaddy which is only available during the work hours on weekdays.
However, there are some common complaints about the two web hosts' technical support that you may want to pay attention.
GoDaddy has discontinued the email support. Besides, its chat support is always busy. You may have to wait over an hour to get connected to a support agent. It seems that the online chat system is not mature yet.
BigRock offers very slow responses to phone calls and tickets. Some tickets might even be completely ignored unless you make a call to ask for a reply. In addition, some of BigRock support agents are believed not to be professional enough for resolving complex issues.
GoDaddy or BigRock?
If you want a hosting package that keeps a good balance between quality and cost, we would recommend neither of these two web hosts for you. There's no denying that the prices of their Windows hosting plans are affordable, but their slow speed and imperfect technical support are good reasons to stay away from them at present.
As hundreds of other choices are open to you, you can easily find a better Windows hosting provider than GoDaddy and BigRock. Need quick suggestions? Then check out the services offered by the following providers.
ASPHostPortal.comHostForLIFE.euDiscountService.bizUKWindowsHostASP.NET
24/7 Customer Support
99.9% Site Uptime
30 Day Money Back Guarantee
Free Website Transfer
ASPHostPortal.com  is Microsoft No #1 Recommended Windows and ASP.NET Spotlight Hosting Partner in United States. They provide a lot of kind web hosting types such as: Windows hosting, Linux hosting, reseller hosting and many more. As a technology focused web host, their web hosting packages are designed to support popular web development technologies. Windows and ASP.NET hosting are at the core of business practice. Also, they have over 10 years combined experience in .NET, PHP, Network Administration, System Integration and related technologies to support mission critical hosting for applications built on these platforms. Their service is trusted worldwide and they have served more than 10,000 customers in 5 different continents
24/7 Customer Support
99.9% Site Uptime
30 Day Money Back Guarantee
Unlimited Diskspace & Bandwith
HostForLIFE.eu was founded in 2008 and since then they have grown into one of the largest windows hosting companies in the UK. HostForLIFE.eu is operated from their registered office based in Manchester and data center in Amsterdam and the newest London data center. At HostForLIFE you will find low cost, yet reliable, windows hosting services. Today they host millions of websites across their infrastructure. From entry level Shared Hosting packages all the way up to Private Clusters.
DiscountService.biz was established to cater to an under served market in the hosting industry web hosting for customers who want excellent service. DiscountService.biz guarantees the highest quality product, top security, and unshakeable reliability, carefully chose high-quality servers, networking, and infrastructure equipment to ensure the utmost reliability. DiscountService.biz has ability to support the latest Microsoft and ASP.NET technology, such as: WebMatrix, WebDeploy, Visual Studio 2015, .NET 5/ASP.NET 4.5.2, ASP.NET MVC 6.0/5.2, Silverlight 6 and Visual Studio Lightswitch. DiscountService.biz is devoted to offering the best Windows hosting solution for you.
Check Detail
UKWindowsHostASP.NET operates data centers & networks in 9 countries across the globe. All of their data center offers complete redundancy in power, HVAC, fire suppression, network connectivity, and security. Their data center has over 53,000 sq ft of raised floor between the two facilities, UKWindowsHostASP.NET has an offering to fit any need. Reliability, stability and performance of their servers remain their top priority. Even their basic service plans are equipped with standard service level agreements for 99.99% uptime.
Check Detail