Best Cheap ASP.NET Hosting | If you are a retailer and don't have an online shop yet, you should consider building one as quick as possible. There are many things to consider when developing an online shop, but there are two very important aspects of a successful e-commerce site: shopping cart platform and web hosting. In this article, we will present you the features you should consider when purchasing e-commerce hosting for your website.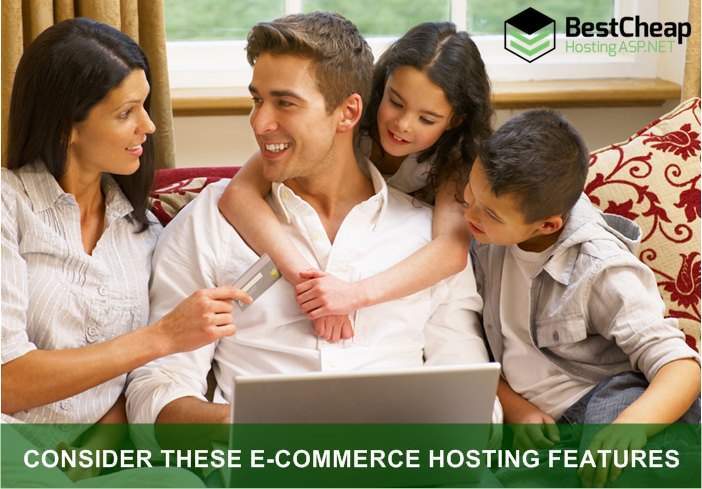 High-Performance
A high-performance server with proper resources can really help you boost and maintain your e-commerce website not having any technical difficulties and maintaining your customers happy and very polite. If the web host provides you with a powerful CPU, a well maintained operating system, enough space storage, RAM, bandwidth and also with an SSD instead an HDD to improve speed, even more, you already are on the right way to maximize your revenue. It is also a good idea to have unlimited add-on domains, email accounts, databases, sub domains in case you need them to create other secondary projects around your website.
Uptime
99.99% uptime is usually guaranteed through a contract, but you need to know for real that your web host uptime is at least 99% and it should have real time statistics regarding their uptime and their server performance. There are different software that can tell you the uptime of a remote or local server depending on the operating system used such as Uptime.exe for Windows servers. Some of this software are online such as Uptime Robot that send you emails each time your website/ host is down or up again. The software has a powerful dashboard and sends alerts through e-mails, SMS and Twitter, monitoring https, ping, port and keywords and also viewing the uptime, downtime and the response times. It is very frustrating for customers to enter or browse the website but it is unavailable because of the downtime.
Daily Backup
Daily backup with the help of a professional software such as R1Soft or using a simple automatically install script like Softaculous or Fantastico if you use a predefined CMS like WordPress can be created in order to save your website with its text, images, videos, design, databases and other sensitive information like customer accounts and added products. Don't forget to make a full backup, both the databases and all the FTP content must be saved daily if you have a lot of changes on your website, else you can try making a weekly or a monthly backup for rare changes, but even so there is a possibility for technical issues or hacking problems so you should remain at daily backups.
Contorl Over Resources
Total control over resources is the best way to manage and maintain your website's speed and performance. To do this you actually need at least a VPS or a dedicated server, it maybe a little expensive at the beginning for you but sure it's worth its value, nobody else using resources from the same server you use and you have full control over them using control panel and other online software that are able to optimize at maximum the resources you have available.
SSL Certificate
An SSL Certificate increases the security and safety of your customers by marking the website safe with a green seal at the link of the website. Practically, an SSL Certificate contains data files of the website that is sent to the browser every time somebody accesses your e-commerce website by activating the https protocol over port 443 and allowing secure connections between the web server that host the website and the customer's browser so credit card transactions, logins, and other delicate data can be safely. An SSL Certificate binds together the domain name, server name or the hostname with the company name and its location so this information are usually showed near the green seal.
Dedicated IP
A Dedicated IP is needed for a safe e-commerce website because it gives the website a unique internet address dedicated exclusively to it and it lets you use an SSL Certificate, view the website through its IP address, access the FTP accounts when the domain is unavailable and ensures fast response during high traffic load. A dedicated IP also provides higher stability, access, business identity and it is required by third-party applications and helps you in problems with old browsers incompatibility. With a dedicated IP, you will no longer have problems with sending emails being banned or blacklisted because someone on the shared IP spammed or made another crazy thing.
Technical Support
24/7 technical support should be available on phone, on email both visible on the web host's website, live chat and ticket system created especially for their clients in case of any technical problems or additional requirements and information needed by you. The support team should be very polite, quick in their answers, precise and clear so you can understand their replies very easy and you can manage the appeared problem or the new information without a headache. Financial problems such as invoices should be resolved by the financial department and not the technical one.
Security
Enhanced security can be a real problem if your web host doesn't offer you the best one! In this case is the possibility that not only hackers can access your website's passwords and other sensitive data, but also usual users of your website can see private information if the security isn't improved, updated and enhanced by multiple software installed on the web host's server. Security is the key of credit cards and other online transactions through a website.
In addition to a great web host and shopping cart system, you also need a great web design, good SEO and high quality product images. Depending on the amount of products you are going to have in your online shop, here are some recommendations of great e-commerce hosting providers:
You didn't add any pricing tables yet!